We improve the quality of the model!
BIMcollab is a powerful tool. With its model viewing, rule-based verification, and model-based communication features, it allows teams to collaborate more effectively and efficiently. By integrating different BIM software into a single system, BIMcollab enables direct communication between team members.
BCF Manager, BIMcollab Cloud and BIMcollab ZOOM work in cooperation with the most common BIM software.
Enables communication between BIM software and its users.
Provides a quick overview of the model
Improves the quality of the model
Facilitates immediate communication between project team members
Generates construction quantities for all parties involved in the project
Allows visual comparison of the model and reality using point cloud technology
Provides an overview of project communication, progress, and statistics
Offers a visual overview of model data
BIMcollab ZOOM
An IFC viewer that offers a surprising amount of functionality for a freeware tool. With the full version, users can do the work of BIM coordination with ease.
Key features include:
Model viewing
Model-based specifications
Clash detection
Professional management of clashes and comments
The tool's intuitive interface and advanced functionality make it an excellent choice for anyone looking to improve their BIM coordination processes.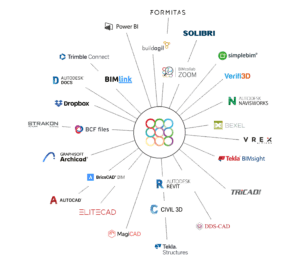 BIMcollab Cloud
BIMcollab Cloud is a cloud-based platform that connects different BIM software tools and facilitates collaboration between project team members.
Key features include:
Professional management of clashes and comments
Overview of solved clashes in minutes with Smart Issue function
Sharing of model requirements
Sharing of BIM data to Power BI
Buy BIMcollab products here!
Ask for a demo using the example of your project by contacting us via the phone number or contact form below.
We use the BIMcollab software daily and can make it work effectively for you too!