A virtual collaboration platform that's available to everyone!
VREX allows holding construction planning and design meetings in the virtual world regardless of people's physical location.
Meetings take place inside a virtual version of your next facility, providing a more immersive experience that can improve solutions and prevent mistakes.
After all, the purpose of modeling in digital construction is to prevent wrong solutions or mistakes.
VR provides significantly more real presence, perception, sense of space.
Join with a VR headset or desktop to share, meet, and make the right decisions in a digital environment.
Why VREX?
A eealistic sense of scale.
In a VR meeting, you feel like you are in a real building with other members of the project team, and you can look around either on your own or by following the meeting leader.
You can hold a meeting in a building you are designing even before it is built.
Comments are fixed directly in the model.
VR adds a lot of spatial perception to the architectural design process, which in most cases would stay hidden behind a regular computer screen.
The VREX environment is like MS Teams on steroids :).
Why should you use virtual reality?
Simple and intuitive user interface.
Join in wherever you are in the world.
You can start with only having an architectural model.
In addition to a VR headset, you can participate through a computer monitor.
Doesn't require unreasonably high computer performance, today's average computer will run most models without problems.
The ability to navigate in the model is not necessary because you can be the navigator's "Tracker" in the model.
In a VR meeting, everyone is present and cannot focus on their phones :).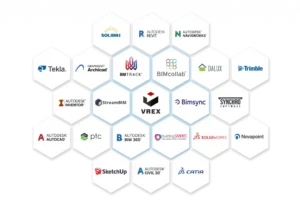 No matter if you are using openBIM or work inside the Autodesk Suite, you can stay connected with integrations:
Navisworks
Bimsync
Autodesk BIM360
BIMcollab
BIM track
StreamBIM
Aconex
BricsCAD
Ask for a quote and set up a two-week VR trial in your office!
(VR headset by us, computer by a client. A slightly more powerful PC with VR support will do.)
Contact us to check the compatibility of your computer!